Our clients have been asking us to include some sort of wireless display device in our AV installations. The interest in this need is obvious, everyone is excited to get away from VGA and HDMI cables coiled up on conference room tables – or even piled on the floor. The question of what to use is common, but the decision on what device to rely on is dependent on a few factors.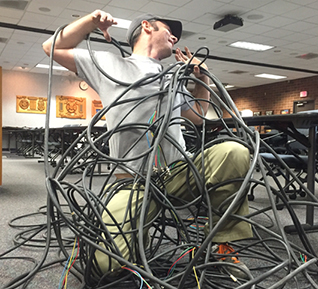 What type of device are you looking to display?
This is our first question to customers. If their office or school provides Apple iPads exclusively to users, then why not install an Apple TV in their system? Apple TV offers the most seamless methods of wireless display connection for Apple device users. With no additional software or drivers to support, wireless connections can be made quickly with full iOS mirroring to support your new AV system. The Apple TV unit should reside on the facility's Wi-Fi network, so be prepared to have those network settings and permissions handy.
Similarly, if offices or school facilities are issued Microsoft Surface tablets, then the Microsoft Miracast adapter offers a very inexpensive and simple way to wirelessly get your PC's image on screen. Surface Pro tablets aren't the only devices that can use this adapter, any Miracast enabled Windows 10 laptop, tablet, or phone can connect. Like the Apple user's experience using Apple TV, the Microsoft wireless adapter is ready to go without the need to install new software or drivers. However, in contrast to Apple TV integrations, Wi-Fi network support is not required, which simplifies setup.
In our installations, we've found that users have the best wireless experience when using device specific hardware like these. Our user's experiences are defined by how easy it is to get your device displayed up on the screen, and by how good the performance is… does the mouse track fluidly with your movements or is there a lag in performance? With either of the above options, the user experience is good.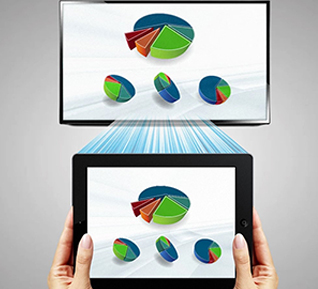 Do you need to support different types of devices?
If your AV system needs to support wireless connections from both Apple Windows devices, we turn to third party wireless connection devices. Crestron's Air Media and Barco's Click Share are two devices that have been installed in recent projects.
Both devices support Wi-Fi integration, meaning that they reside on your wireless data network and are detectable by any laptop, phone, or tablet that is also connected. Both devices offer a handy quad-screen multiview function, which is a cost-effective way of displaying up to 4 devices simultaneously on the same screen. However, unlike Apple TV or Miracast, these devices from Crestron and Barco do require you to install small utility programs to pair your device and wirelessly display an image. It's not a complicated process, but it is an extra step, and you might have issues installing new software if your organization restricts installations by system administrators only.
Barco Click Share offers an easy method of connecting wirelessly, by offering USB powered buttons for your laptop. Plug them in, install the driver, and you're wirelessly on-screen by pressing the button. Easy to set up, but you might need a system administrator to provide you access for the initial installation. Ease of use comes at a premium cost, however. The Click Share wireless kit is more expensive than the other solutions. But it is an elegant system that works well.

Do you want to wirelessly display video content?
All the above solutions work well when displaying static images. These include still pictures, PowerPoint slides, excel spreadsheets, most web sites, etc. Considering our customers, this is what they're looking to display most of the time. But what about watching video clips, live web video streams, movies, or even short videos from YouTube? Of the available wireless technologies that we've used so far, none have played back smooth video. Nothing beats the performance of a direct cable connection to the laptop for video. So, if video is critical for our users, we are reluctant to integrate wireless unless they are clear on the limitations.
But stay tuned! The wireless display market is evolving quickly. As network speeds increase, so will wireless display performance.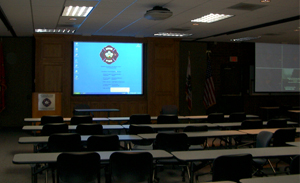 Monitors! Projectors! Interactive displays! Our decades of experience both using and installing display products equips us to help you find the right product to work in your space and to showcase your creations.