Putting your message first
At Studio Spectrum, we have a long history of serving the unique needs of our worship clients.
There is a delicate balance with most church installations. The AV system is there to assist and enhance the delivery of your message without causing distractions. Additionally there are often special considerations for respecting and preserving the integrity of historic church buildings.
We are well versed in addressing those special needs and challenges…as well as in providing exciting new opportunities for expanding your congregational audience. Give us a call to learn more about how we can help!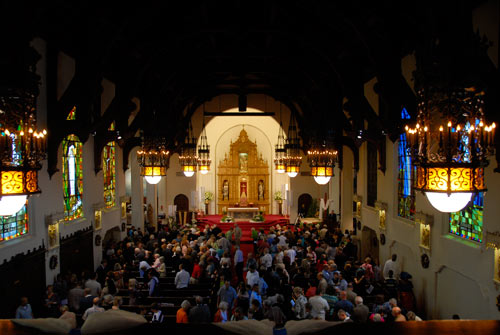 Worship Audio/Video Needs
We are experienced in providing a range of installation options.
From simple sound reinforcement to help your attendees hear the service better, to projection systems to enhance your service presentations in new and exciting ways…we can help create just the right solution for your services and space.
Many congregations face the same problem, they need complex equipment but they also need it to be simple to run for their volunteer teams.
We have specialized in creating custom control systems that can make the most advanced equipment accessible to the non-technical teams that help run the worship service.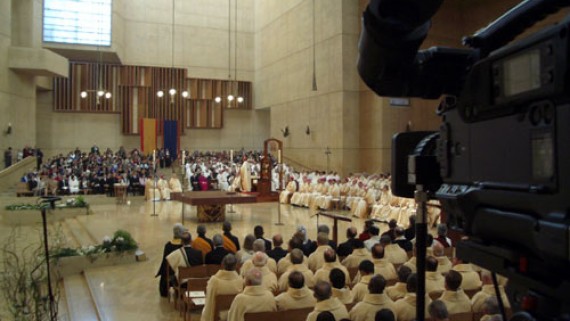 Broadcast and Recording Options to Expand Your Reach
We have helped many of our churches upgrade their systems to allow for recording and broadcasting options. Perhaps you only need to record hosted weddings and services, or maybe you would like to explore broadcasting online or local cable access channels.
We can help you navigate the technology needed to broaden your reach.
Holy Angels Catholic Church wanted to expand the capabilities of their sound system while making it even simpler to use.
Holy Family is a large, vibrant parish in the heart of South Pasadena. We were proud to return and refresh the existing sound system we had installed almost 15 years prior.
Products you should know about...
Digitally Steerable Line Array Loudspeaker SystemsBack when most manufacturers were just starting to think about digitally steerable line arrays, ICONYX was already proving the theory. And while others are only now getting on board, Iconyx continues to refine and set the standard.
Engineered for the most challenging acoustical environments, Iconyx … Read More